Introduction
General Information
The Drayton Reserve Volunteers, a group of about 130 locals, started in April 2016 with the aim of working with the Council to return the Drayton Reserve to its original forest and other vegetative cover, for conservation, passive recreation and educational purposes, especially for the local community. This will include accelerating native plantings, improving the streambed and water quality, reducing soil erosion, increasing the populations of native birds, lizards, fish and insects, controlling litter and animal and plant pests and improving tracks and facilities.
The Drayton Reserve comprises a narrow valley between the hillside suburbs of Mt Pleasant and Redcliffs, Christchurch, NZ. The valley rises from near sea level at McCormacks Bay, to about 180m altitude at the Mt Pleasant Rd / Craigieburn Lane intersection. The Reserve is about 1km long, 50-150m wide and about 8ha in area. The Council have undertaken some native revegetation and established a track along the bottom of the valley, connecting tracks to nearby roads up the valley, a bridge and a waterfall lookout, but have limited funds for further work.
Reserve Status
Drayton Reserve is a "Local Park" under the Christchurch City District Plan.
Location Map
Drayton Reserve is located approximately in the centre of the following map: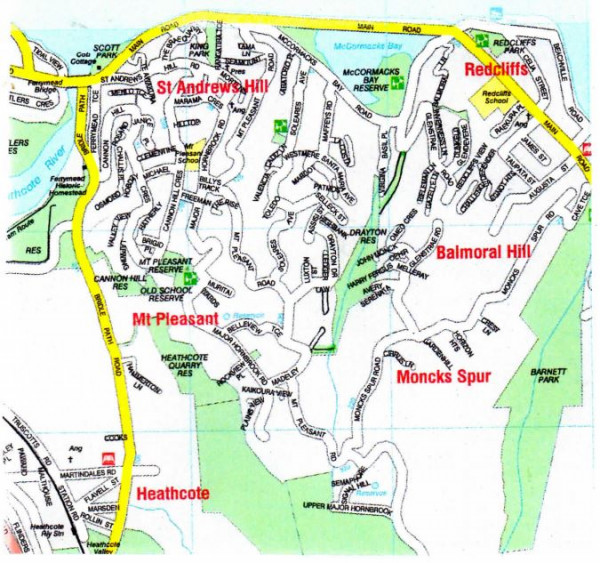 Vision & Philosophy
Our vision is to return Drayton Reserve back to its original native vegetation and wildlife, providing for species survival, local biological diversity, water and soil conservation and a local community resource for connection to our natural heritage, passive recreation, education and a link in a biological corridor from the sea to the summit.
We operate as an informal group of local volunteers (not Incorporated so as to reduce administration), with a Co-ordinator who manages and consults with both the City and Regional Councils, Mt. Pleasant and Redcliffs Residents Associations and Primary Schools, members, other agencies, specialist advisers, neighbours and media.
We have no subscriptions or financial resources and rely on donations of plants, materials, equipment, labour, advice and other resources.
To ensure the forest will be as close as possible to its original state, we use local eco-sourced seedlings.
We use sustainable and natural methods, practices and materials, to avoid any adverse effects (such as emissions and toxins) on the environment or any organisms and we give preference to local services and resources.
We all enjoy caring for and working with the environment and feeling a part of it as we pursue our vision.
We welcome involvement of locals of all ages and try to ensure their experiences will be enjoyable and that they will feel their contributions, of whatever kind, are valued.
Contacts
See the Contact Us page.